Combat for Roses
Ocean Grow now introduces Combat for Roses and other Ornamentals.
Not only an insecticide and fungicide but a natural fish fertiliser with minerals and trace elements essential for healthy plants.
Systemic control of Black Spot, Powdery Mildew and Rust. Kills Aphids, Mites, Thrips, Caterpillars and Budworm.
A bee-friendly "three in one" Rose and Ornamental spray.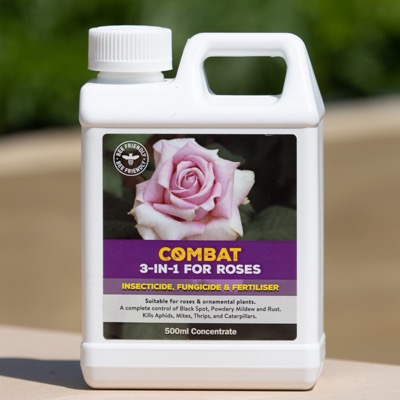 Testimonials
Ocean grow is an amazing product. I have used Yates fish oil in the past, but nothing compares to Ocean Grow. My plants are incredibly healthy and have never tasted better! Once applied there is a noticeable difference in garden growth in just days, not to mention its ability to totally repel aphids! Ocean grow is truly fantastic for your garden.
Nick Jackson on 027 350 2409
I started using Ocean Grow on my vegetable garden and fruit trees about 6 weeks ago. The difference in growth of the plants from previous years is obvious; all the plants are looking bigger and healthier. I planted some new vegetables recently and forgot to add the Ocean Grow and they looked significantly limper and started to go brown, I have now started it on Ocean Grow and they are definitely perking up. There also appears to be no bugs hanging about them this year. I would continue to buy Ocean Grow in the future.
This is the second year I have used Ocean Grow in my country greenhouse. The first year left me a total believer in the product, my tomatoes grew so high they were growing back of my roof and needing trimming. All other vegetable had amazing growth and I really enjoy showing my neighbours through my greenhouse. I have also noticed no aphids, I'm sold.
Craig Cockburn on 03 303 6006
I am a bit of an amateur gardener, have only really being doing it for a couple of years and never really grown anything substantial to rave about. Since I started using 'Ocean Grow', I have noticed an incredible difference in the results, much heartier and stronger vege's. I am looking forward to growing even more vege's next year and will be recommending it everyone I know.
Sean Davies on 027 3525 703