Welcome to Ocean Grow
Ocean Grow Fish fertilizer qualities are obvious in the end results and the quality and quantity and vegetables, fruit and plants grown. Both Ocean Grow and Seaweed Boost provides outstanding growing results through sustainable product manufacture, being simple and easy to apply and is absorbed through both plant foliage and soil. There is increased microbiological life resulting in total performance in plant health and total performance in plant yield. A natural plant stress relief in all conditions resulting in less spraying and increased soil health and earth worm populations
The process and ingredients result in Ocean Grow acting as a natural insect deterrent
An odorous product such as Ocean Grow has the ability to distort light radiating off the plant, then pests ignore the plant and fly on to elsewhere.
Coupled with the above, the low oil content of Ocean Grow tends to block the sucking insects proboscis. Possums and small rodents dislike the odour and taste. Spraying onto plants and trees, fences and boarders create rodent avoidance of the area. These products can be applied through both foliage and soil, resulting in increased yields and heathy plant life.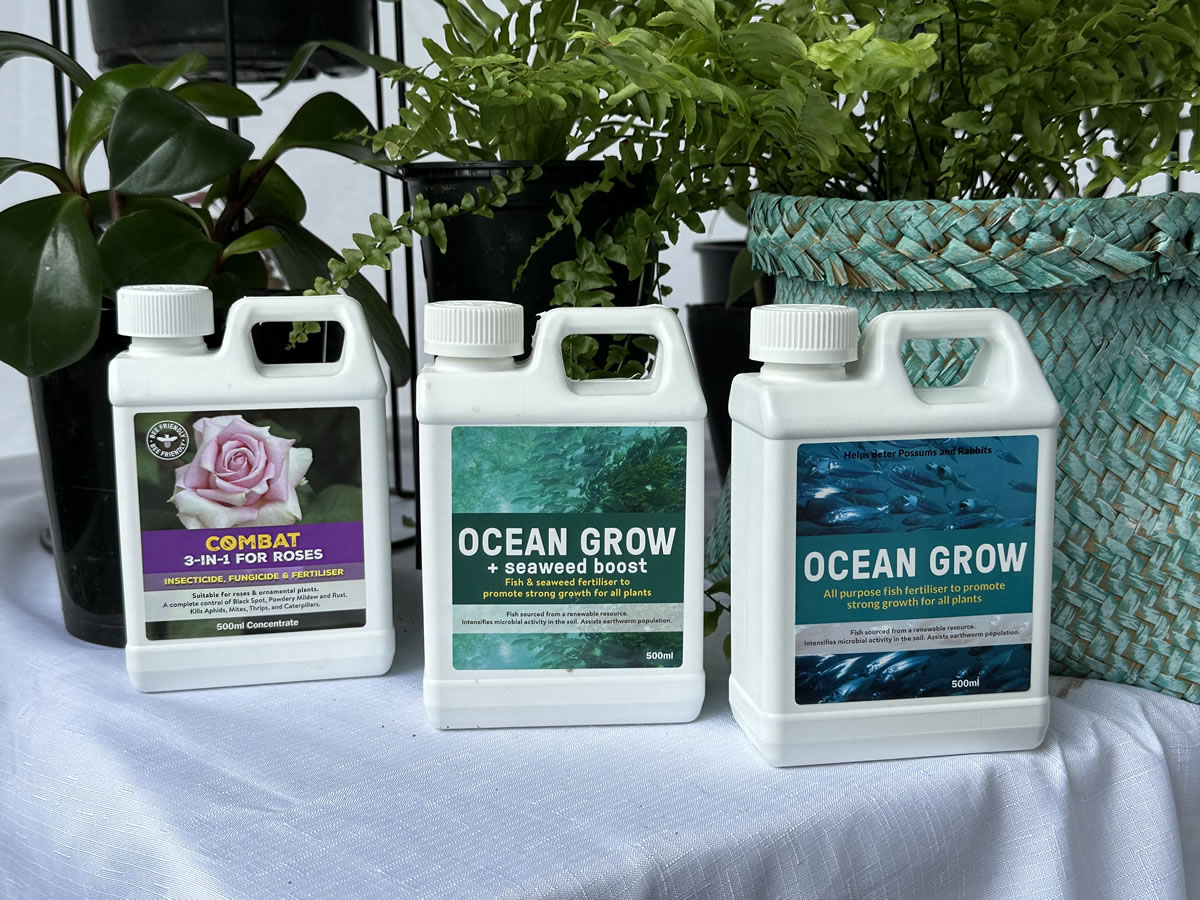 Unlike other from-the-sea products, Ocean Grow uses the whole fish (flesh, head, spine and tail ) thus retaining all essential nutrients and omega's, but still fine enough to pass through a 60 micron filter.
Ocean Grow Fish Fertilizer national distribution began after extensive in house growing trials by Oderings in Christchurch, who then after outstanding results stocked all branches. They actually came up with the name after their own in-house naming competition.
Following independent research and requests from stockists we then added Ocean Grow + Seaweed Boost to our brand. Our seaweed is also an organic product made with naturally occurring bio stimulants and organic metabolites, stimulating optimal biochemical metabolisms and genetic expressions bringing photosynthesis, increased nutrient uptake and increased anti-oxidation activity. This supports plant immune system to induce resistance to stress. The seaweed is harvested from the Marlborough Sounds and locally made.
Ocean Grow then introduces Combat for
Roses
Not only an insecticide and fungicide but a natural fish fertiliser with minerals and trace elements essential for healthy plants.
Systemic control of Black Spot, Powdery Mildew and Rust. Kills Aphids, Mites, Thrips, Caterpillars and Budworm.
A bee-friendly "three in one" Rose and Ornamental spray.
Combat for Roses has nature friendly additives (Myclobutinal as a fungicide which is highly effective against pests such as aphids etc, but Bee friendly when applied during non-foraging periods and applications will not interfere with the activity of honey-bees once spray has dried and Tau Flavinate as a pestiside which has a low toxicity to beneficial insects such as pollinators, parasites, predators and fungal feeders). These products are highly effective and safe.
Combat is possibly a world first fertilizer, fungicide and pesticide all in one.
SUMMARY
A world class Fish Fertiliser
A highly effective Insecticide
A highly effective Fungicide
Bee Friendly
MPI classed as a compound not a chemical
Probably the best priced Rose spray on the market (with all the above benefits)